Flooding can occur at any time, especially next to the Athabasca, Clearwater and Christina rivers.
Before a flood
Be aware
Tune into the Alberta Environment website for real-time advisories and warnings
Listen to local media
Sign up for Alberta Emergency Alert
Arrange with neighbours to advise one another of an emergency notification
Make an emergency plan for your household
Prepare an emergency kit for your household
Learn the river breakup evacuation zones
Review your insurance policy and check to ensure you have overland and sewer backup flooding insurance
Take a video with the date displayed of your belongings
Install backflow valves in sump pumps, the floor, sink, toilet, and washing machine drains in your basement to prevent sewer backups
Install weather protection sealants around basement windows and ground-level doors
Check sump pumps to check they are working
Landscape and build-up areas against your foundation to keep water moving away
Confirm downspouts are at least six feet away from your basement wall and are working (check to ensure the water does not drain onto your neighbour's property)
If your property is next to a ditch or stream, keep the banks clear of brush and other debris
Store valuable items on the upper floors of your home, away from the basement
If flooding is close, shut off electricity and put up barrier for basement windows and doors
Clear snow away from your home's foundation
During a flood
Follow evacuation instructions
Do not walk through moving water or standing water
Do not drive through flooded areas
If your vehicle stalls in rising waters, all passengers should get out and go to higher ground
Stay away from flood zones and response route
After a flood
Returning to your property
Exercise extreme caution when you return to your home or business
Do not enter any building unless it is structurally sound
Avoid damaged areas or areas that contain dangerous debris
Do not enter areas with floodwater due to hidden hazards
Do not handle or consume items that have touched floodwaters due to sewage and chemicals
Have your home or business go through an electrical panel and appliance inspection by a qualified technician before having your utilities reconnected
If you did not turn off your utilities before evacuating have a qualified technician check your home
Before drinking the tap water check for odd colours or odours
After you have restored utilities, the water supply, and wastewater system inspected and safe to use and your property cleaned, dried and disinfected you may reoccupy your property
Completing a damage assessment
Take a video to record any flood damage to your property
Store any valuable papers in the freezer, do not discard any papers damaged during the flood
Watch for information on disaster recovery programs
Cleaning your property
Arrange for childcare while you clean to cut your child's exposure to contaminated areas
Do not bring pets back until it is safe
When using electrical equipment, keep extension cords out of water
Discard any furniture and other types in your home or business if it has flood damage
Discard spoiled food and medication
For instructions on how to clean your property, talk to the local public health office
River breakup camera
Watch the ice from a safe distance through the river breakup camera. The camera's location is at the Water Treatment Plant (south) of the bridge, facing downstream (north).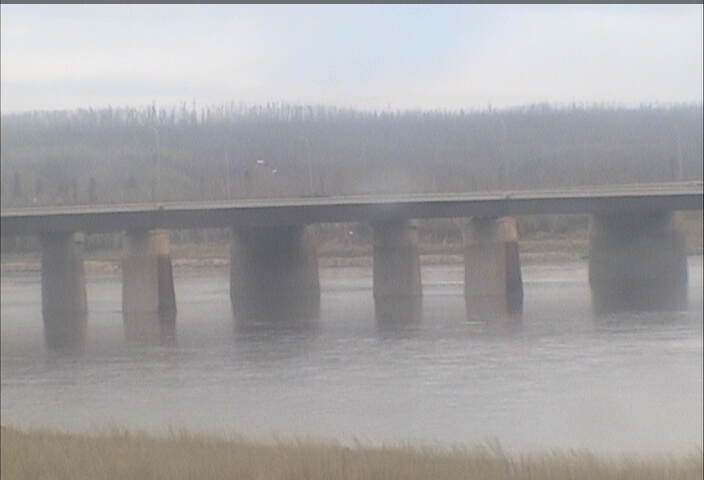 You can also get detailed river monitoring information at rivers.alberta.ca.
How river breakup happens
During the spring months when the flooding risk is greater, our Emergency Management branch works with Alberta Environment to mitigate the flood risk.
There are many checkpoints on the Clearwater River to provide warning of an ice break.
The type of breakup (thermal or dynamic) is dependent on weather and river conditions.
Thermal breakup
Thermal processes melt the ice cover and weaken it (picture an ice cube disappearing in a glass of water as it melts). Contributing factors include sunshine or wind, increased water or air temperature.
Dynamic breakup
Dynamic processes push the ice cover out of its original place and into chunks. These chunks are then pushed downstream. Precipitation, water levels, or water movement that causes the ice cover to break before it has weakened.
Dynamic breakup is more likely to cause an ice jam and create a higher flood risk.