Alternative forms of media and information make learning more accessible. Whether it's audiobooks, novels, social media, or podcasts, there's now a way for everyone to learn about issues that matter.
Here's a list of our favourite Indigenous podcasts, books and social media influencers. Check them out and share your favourites with friends and family.
Podcasts
Matriarch Movement
On Matriarch Movement, host Shayla Oulette Stonechild shares stories of Indigenous women, from Canada to Turtle Island and beyond. Through interviews where issues facing Indigenous women are brought to light, and with portraits that challenge the mainstream narrative around Indigenous identity, Matriarch Movement offers up a new category of Indigenous role models, to inspire the next seven generations.
Why we love it: Host Shayla Oulette Stonechild asks her guests, all strong matriarchs, how non-Indigenous people can actively participate in reconciliation and support Indigenous people and communities.
Unreserved
Unreserved is the radio space for Indigenous community, culture, and conversation. The host takes you straight into Indigenous Canada, from Halifax to Haida Gwaii, from Shamattawa to Ottawa, introducing listeners to the storytellers, culture makers and community shakers from across the country. The Unreserved team offers real talk from the people behind the headlines, with a soundtrack from the best in Indigenous music.
Why we love it: You'll learn about Indigenous people, communities, history, contemporary issues, as well as celebrations and achievements. This radio program and podcast offers many perspectives that will help you understand and empathize.
Two Crees in a Pod
2 Crees in a Pod, a podcast hosted by Amber Dion and Terri Suntjens, unapologetically creates space for Indigenous resurgence. Our intention is to disrupt western colonial systems and honor Indigenous helping practices. Dion and Suntjens both grew up in Indigenous communities, are around the same age, are both mothers, share a background in social work and now work in academia. "The name of this podcast – 2 Crees in a Pod – just feels like the perfect way to describe who we are," says Suntjens. "Our guests have things to say that everyone – academics, community members and non-Indigenous folks – should hear."
"From the time I was a little girl, I have witnessed, and experienced Indigenous voices being silenced. It has to stop," says Dion, assistant professor, social work. "This podcast is an Indigenous-led, Indigenous-created platform – one where we can collaborate to make sure that voices are amplified in ways that can't be ignored."
Why we love it: Crees in a Pod takes topics that can be challenging and makes them accessible without sacrificing the integrity of the conversation. The conversation and dynamic between Amber and Terri seems like a conversation with best friends on the couch. Their ability to laugh, cry and authentic naturally encourages guests of the show to do the same. The result is an unfiltered conversation that deepens the listeners' understanding and awareness of diverse topics.
Dene Yati Podcast
Dene Yati which means "Speak Dene," is hosted by Willis Janvier. Originating from La Loche, Sask. and currently living in Moose Jaw, Willis is a strong advocate and promoter of the Dene language. The intent of the podcast is to teach and learn the Dene language through conversations.
Why we love it: Willis Janvier used to live and work in Fort McMurray. He understands local issues at a deeper level and is an advocate for having conversations that create space for positive change – all while promoting and preserving the Dene language. Willis Janvier joined National Indigenous Language Day – a partnership between Athabasca Chipewyan Prairie First Nation, Mikisew Cree First Nation, Fort Chipewyan Métis Association, the Athabasca Tribal Council, and the Regional Municipality of Wood Buffalo. He hosted an Indigenous Language Learners Sharing Circle, a safe space created to share experiences and efforts to preserve and strengthen Indigenous languages. His podcast is an extension of his passion for connecting through language and highlights how language is critical to identity, cultural history, memory, expression of self-determination, and reconciliation.
Media Indigena with Rick Harp
Media Indigena is a weekly Indigenous current affairs podcast hosted by its founding Editor-in-Chief, Rick Harp. "Since its launch back in 2010, my goal with Media Indigena has been to share the stories I wanted to see and hear as an Indigenous person, in the way I wanted to see and hear them." Each week, guests from the worlds of activism, arts, academia and beyond join Rick for lively, insightful conversation that goes beyond the headlines to get at what matters most to Indigenous peoples.
Since its debut as a podcast in Spring 2016, Media Indigena has been a consistent source of timely insight on the issues that matter most to Indigenous peoples. Anchored by host/producer Rick Harp, the MI roundtable—featuring Candis Callison, Kim TallBear, Brock Pitawanakwat and Ken Williams—is known for its lively and engaging roster of voices who together help listeners connect the dots of colonialism in Canada and beyond.
Why we love it: Media Indigena puts the spotlight on Indigenous topics that matter most to Indigenous Peoples. The roundtable discussions take issues that are often left out of mainstream media and bring them into the forefront. The conversations are raw and real, and Rick has no qualms telling the listener what he really thinks. It's this passion and honesty that Rick and his guests bring to every discussion that has us tuning in for each episode.
From the Ashes by Jesse Thistle
"From the Ashes is a remarkable memoir about hope and resilience, and a revelatory look into the life of a Métis-Cree man who refused to give up. Abandoned by his parents as a toddler, Jesse Thistle briefly found himself in the foster-care system with his two brothers, cut off from all they had known." – CBC Books
Why we love it: This #1 national bestseller is receiving acclaim around the world, and for good reason. Jesse Thistle's raw –and often brutal – honesty, and beautiful poetry, helps create understanding and compassion for those whose stories may be more complicated than you think. He was also the inaugural speaker of Indigenous Speaker Series - Regional Municipality of Wood Buffalo.
Five Little Indians by Michelle Good
Taken from their families when they are very small and sent to a remote, church-run residential school, Kenny, Lucy, Clara, Howie, and Maisie are barely out of childhood when they are finally released after years of detention.
Alone and without any skills, support or families, the teens find their way to the seedy and foreign world of Downtown Eastside Vancouver, where they cling together, striving to find a place of safety and belonging in a world that doesn't want them. The paths of the five friends cross and crisscross over the decades as they struggle to overcome, or at least forget, the trauma they endured during their years at the Mission.
With compassion and insight, Five Little Indians chronicles the desperate quest of these residential school survivors to come to terms with their past and, ultimately, find a way forward.
Five Little Indians is the winner of the Governor General's Literary Award for Fiction, Amazon First Novel Awards, and Kobo Emerging Author Prize. It was also a finalist in the Scotiabank Giller Prize, Atwood Gibson Writers Trust Prize, BC & Yukon Book Prize, and Kobo Emerging Author Prize. It is a National Bestseller, a Globe and Mail Top 100 Book of the Year, a CBC Best Book of the Year, an Apple Best Book of the Year, a Kobo Best Book of the Year, and an Indigo Best Book of the Year.
Why we love it: "That was so long ago, they should just get over it." This is the rhetoric that far too many non-Indigenous people subscribe to when talking about residential schools and the intergenerational trauma that continues to impact Indigenous families, communities, and people today. This book has the capacity to change that – to change Canada. Five Little Indians raises awareness about the true history of what happened in the church-run residential schools mandated by the Canadian government of the time. This book should be required reading for every adult in Canada. A person cannot finish this book and walk away unchanged. Books have the power to change the world, and this is undoubtedly one of them.
Unsettling the Settler Within: Indian Residential Schools, Truth Telling, and Reconciliation in Canada by Paulette Regan
In Unsettling the Settler Within, Paulette Regan, a former residential-schools-claims manager, argues that in order to truly participate in the transformative possibilities of reconciliation, non-Indigenous Canadians must undergo their own process of decolonization. They must relinquish the persistent myth of themselves as peacemakers and acknowledge the destructive legacy of a society that has stubbornly ignored and devalued Indigenous experience. With former students offering their stories as part of the truth and reconciliation processes, Regan advocates for an ethos that learns from the past, making space for an Indigenous historical counter-narrative to avoid perpetuating a colonial relationship between Indigenous and settler peoples.
A powerful and compassionate call to action, Unsettling the Settler Within inspires with its thoughtful and personal account of Regan's own journey, and offers all Canadians – Indigenous and non-Indigenous policymakers, politicians, teachers, and students – a new way of approaching the critical task of healing the wounds left by the residential school system.
Why we love it: "Decolonization" is a big word that has many political, emotional, social, and historical contexts living within it. Unpacking that word and what it means is a big task, and further to that, the work that one needs to undertake to decolonize oneself is not a simple or straight forward process. This book is a good starting point for those seeking to understand and gain insight into how they can personally contribute to advancing reconciliation. Giving the reader actionable steps forward, Unsettling the Settler Within is a must read for anyone that takes the challenge upon themselves to do better and be better on their own personal journey of reconciliation.
In My Own Moccasins: A Memoir of Resilience by Helen Knott
Helen Knott, a highly accomplished Indigenous woman, seems to have it all. But in her memoir, she offers a different perspective. In My Own Moccasins is an unflinching account of addiction, intergenerational trauma, and the wounds brought on by sexual violence. It is also the story of sisterhood, the power of ceremony, the love of family, and the possibility of redemption. With gripping moments of withdrawal, times of spiritual awareness, and historical insights going back to the signing of Treaty 8 by her great-great grandfather, Chief Bigfoot, her journey exposes the legacy of colonialism, while reclaiming her spirit.
Why we love it: In My Own Moccasins contains difficult subject matter, but is an incredibly important read. MMIWG2S (Missing and Murdered Indigenous Women, Girls and Two Spirit) continues to be a troubling issue in Canada. Indigenous writer Eden Robinson says it best in the foreword, "We live in an era where Indigenous women routinely go missing, our youth are killed and disposed of like trash, and the road to justice doesn't seem to run through the rez." Knott was recognized for this work as one of 16 global change makers featured by the Nobel Women's Initiative for being committed to end gender-based violence.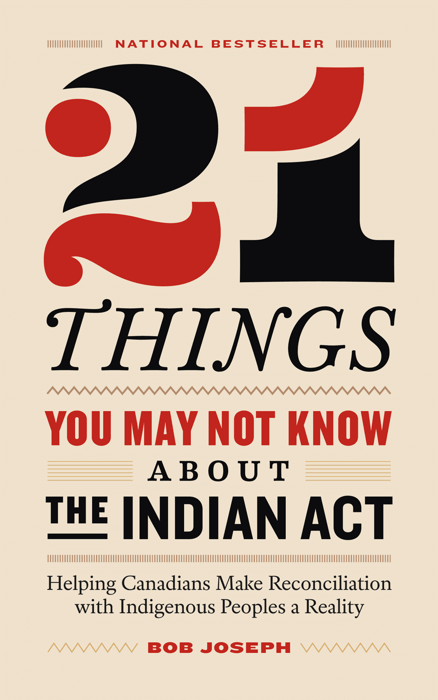 21 Things You May Not Know About the Indian Act
Based on a viral article, 21 Things You May Not Know About the Indian Act is the essential guide to understanding the legal document and its repercussion on generations of Indigenous Peoples, written by a leading cultural sensitivity trainer.
Since its creation in 1876, the Indian Act has shaped, controlled, and constrained the lives and opportunities of Indigenous Peoples, and is at the root of many enduring stereotypes. Bob Joseph's book comes at a key time in the reconciliation process, when awareness from both Indigenous and non-Indigenous communities is at a crescendo. Joseph explains how Indigenous Peoples can step out from under the Indian Act and return to self-government, self-determination, and self-reliance - and why doing so would result in a better country for every Canadian. He dissects the complex issues around truth and reconciliation, and clearly demonstrates why learning about the Indian Act's cruel, enduring legacy is essential for the country to move toward true reconciliation.
Why we love it: It's a quick read but will provide a deep, yet straight forward, understanding of historical and contemporary Indigenous issues, from the banning of potlach to the introduction of residential schools.
@raven_reads
"Raven Reads is a Canadian season al subscription service that features quality, award-winning Indigenous content and products curated from Indigenous authors and entrepreneurs across North America." – www.ravenreads.org
Why we love to follow: They have recently begun a campaign to share the Truth and Reconciliation Commission's 94 Calls to Action. For 94 weeks, they will share one a week, asking their followers to also look at what they can do individually to advance reconciliation. Also, by following Raven Reads, you'll discover more books written by Indigenous authors to increase your awareness and understanding.
@tiplerteaches
Megan Tipler is a Métis, Edmonton-based educator and artist, on Treaty 6. Megan shares a lot of resources and promotes activism, particularly surrounding the lack of Indigenous representation in Alberta's curriculum. Megan is also a member of the Nîsohkamâkewin Council, an Indigenous-led advisory focused on systemic change in Edmonton's Police Service. With Indigenous children making up over 50% of the foster care population across Canada and 70% in Alberta; and Indigenous prisoners representing over 30% of incarcerations in the country (that figure being higher too in the Prairies), she believes schools are a microcosm of society where the interconnectedness of systems of oppression cannot be ignored, and she hopes that the voices of Indigenous peoples will be heard to create lasting change.
Why we love to follow: As an Indigenous educator, Megan Tipler has taken it upon herself to raise awareness of contemporary Indigenous resources. In 2020, she created a poster series of Indigenous people who inspired her, along with other resources, for teachers to purchase for their classrooms. Megan believes the systems of oppression, particularly in our education system, cannot be ignored and hopes the voices of Indigenous peoples will be heard to create lasting change.
@notoriouscree
James Jones is a dancer, speaker, performer, workshop facilitator, YouTuber. The accomplished hoop dancer went mega-viral while introducing TikTok audiences to his Cree heritage. A mentor taught him the hoops when he was in his 20s, and his talents have landed him everywhere from the 2010 Vancouver Olympics and the Sydney Opera House to So You Think You Can Dance Canada and a world tour with the musical group A Tribe Called Red. Within weeks of the pandemic zapping much of Jones's livelihood, his TikTok fame had relaunched his career right from his living room. The attention has brought requests for virtual performances, online speaking gigs, and various advertising campaigns and influencer sponsorships.
Why we love to follow: James is Alberta born, from Tallcree First Nation. He has over 3.1M followers on TikTok and it's easy to see why. He's talented, kind, funny, and humble. The dance tutorials are our personal favourite.
@indigenous_baddie
Michelle Chubb is Swampy Cree living on Treaty 1 territory in Winnipeg. She's an influencer on Instagram and TikTok and a jingle dress dancer. You may recognize her from Sephora's first-ever National Indigenous History Month campaign last June. She speaks to various issues, such as pipelines, Missing and Murdered Indigenous Women and Girls and cultural appropriation. With over 180K followers, Michelle reaches both Indigenous and non-Indigenous youth, using her voice to highlight Indigenous culture and mentor those that may be struggling or have lost their way.
Why we love to follow: Michelle Chubb uses her platforms to advocate for Indigenous rights, raise awareness of Indigenous issues, and showcase culture and traditions, like her beautiful ribbon skirts and beaded earrings. Following Michelle is a gateway to discovering Indigenous artists and creators and through reconnecting to her culture, Michelle is inspiring others to do the same.
@shinanova
Shina Novalinga is a proud Inuk woman and throat singer based in Montreal. Sharing her Inuit tradition of throat singing through social media, Shina hopes it can help Indigenous people reclaim their voices. Shina is passionate about keeping her culture alive. To her it is important that non-Indigenous people listen to Indigenous voices so that steps forward can be taken, stereotypes can be changed, and a greater understanding about the true history can be understood.
Why we love to follow: Using her platform to revitalize a cultural tradition and reclaim her heritage, Shina highlights northern Indigenous issues, such as the high cost of food, and Inuit traditions, such as throat singing. Shina frequently adds Indigenous twists to trends on TikTok as a way of sharing her culture.